Call us on 01460 391352 to book your Cooker
repair in Crewkerne, Yeovil, Taunton & all
surrounding areas in Somerset or North Devon
- or click here to send an email.
Cooker Repairs | Crewkerne | Yeovil | Taunton
Ilminster | Chard | Somerset | North Devon
COOKER REPAIR IN CREWKERNE
Our low cost service covers cooker
repairs in Crewkerne and all surrounding
towns and villages. We repair all types
of gas and electric cookers on the same
or next day and in your own home.
Our stock of spares covers virtually all
makes and types of cooker so that we
can fix things straight away. In the rare
event that we need a special part, we
aim to get it within 24 hours subject, of
course, to availability from the
manufacturer or specialist stockist.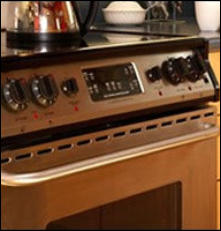 A cooker breakdown is usually an
unwelcome surprise which creates
hassle and disruption to your
routine or to your plans - and so
needs to be remedied quickly!
We come stocked with a wide range of
spares and fittings in the van and can
repair most cooker problems straight away.
Should an unusual or specialist part be
needed, we can locate a supplier and get it
delivered without delays.
Our locally-based service covers
cooker or oven repair in Crewkerne
and all surrounding areas and we'll usually
be able to get to you within a day to fix your
cooker.